Jerome Jay Barrera asks,
"Which is better: OnePlus 5T or Huawei Mate 10?"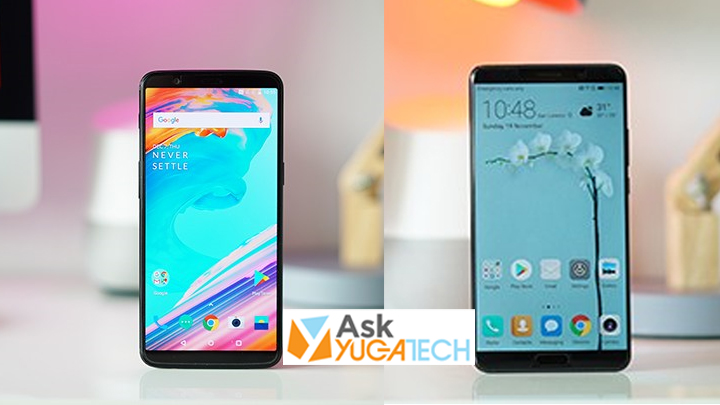 Two flagship smartphones are put side-by-side to see which key specs have the upper-hand in this battle. Which do you think will come out victorious? Let's find out!
Author's Note: This will be a specs comparison, so we cannot compare them directly.
The OnePlus 5T is the company's latest flagship smartphone that was released recently. It has a 6.01″ 18:9 Optic AMOLED display with 2160 x 1080 resolution, a Snapdragon 835 processor, 64GB/128GB internal storage, 6GB/8GB RAM, 16MP + 20MP rear cameras with dual LED flash, 16MP front camera, and 3,300mAh battery with Dash Charge.
The Huawei Mate 10 was released during the Internationale Funkausstellung Berlin (IFA) 2017. It has a 5.9″ 16:9 IPS LCD display with 2560 x 1440 resolution, a Kirin 970 processor, 64GB internal storage, 4GB RAM, 12MP + 20MP rear cameras with dual-tone LED flash, 8MP front camera, and 4,000mAh battery with Super Charge.
Here are their detailed specs:
OnePlus 5t
Huawei Mate 10
Display
6.01-inch 18:9 Optic AMOLED display @ 2160 x 1080 pixels
5.9-inch 16:9 IPS LCD display @ 2560 x 1440 pixels
CPU
2.45GHz Qualcomm Snapdragon 835 octa-core
2.36GHz HiSilicon Kirin 970 octa-core
GPU
Adreno 540
Mali-G72MP12
Memory
-64GB/128GB UFS 2.1 2-Lane storage
-6GB/8GB LPDDR4X RAM
-64GB UFS 2.1 internal storage
-4GB LPDDR4 RAM
Camera
-16MP f/1.7 + 20MP f/1.7 rear cameras w/ dual LED flash
-16MP f/2.0 front camera
-12MP + 20MP dual Leica optic rear cameras with Dual Tone LED Flash
-8MP f/2.0 front-facing camera
Battery
3,300mAh battery w/ Dash Charge
4,000mAh Li-Ion battery w/ superCharge
OS
7.1.1 Nougat (OxygenOS 4.7.4)
Android 8.0 Oreo with EMUI 8.0
Here are their benchmark scores:
OnePlus 5T vs Huawei Mate 10 Antutu Benchmark
| | OnePlus 5t | Huawei Mate 10 |
| --- | --- | --- |
| PC Mark | 8,355 (Work 1.0), 6,774 (Work 2.0), 4,918 (Storage) | 7,583 (Work 1.0), 6756 (Work 2.0), 14,713 (Storage |
| Battery Life | 11 hours and 32 minutes | 9 hours and 26 minutes |
Here are the advantages of each smartphone:
OnePlus 5T Pros
Slightly better-performing GPU
Higher RAM
Higher main rear camera resolution
Higher front camera resolution
Longer battery life
Bluetooth 5.0
MiMo 2×2
Huawei Mate 10 Pros
Higher screen resolution
microSD card slot (hybrid)
HDR 10
Android 8.0 Oreo out-of-the-box
IP53 Splash resistance
Pressure sensor
New Leica camera lenses
4G LTE Cat. 18
DISPLAY
The OnePlus 5T's display differs from that of the Mate 10, as the former has an 18:9 screen aspect ratio with an Optic AMOLED display while the latter has 16:9 with IPS LCD, but with a higher screen resolution. In terms of viewing quality, both devices are highly recommended for users who are fond of watching videos. It would be a draw if it weren't for the higher screen resolution that the Mate 10 has with its display.
CPU AND GPU
Both devices are equipped with a flagship processor. The OnePlus 5T has a Qualcomm Snapdragon 835, while the Mate 10 has HiSilicon Kirin 970. In our article where we faced off both of these processors, it had turned out that they are practically the same in performance which means that users are free to choose either one. In this case, it is shown that they have hardly had differences when tested out in the AnTuTu synthetic benchmark app.
In the same article, the Adreno 540 performed better than the Mali-G72 MP12 by 10%. This means that if users are more inclined to gaming, they can go for the OnePlus 5T.
CAMERA
Both smartphones have a dual rear camera setup, but what makes them different are the main rear camera resolution and the lens technology that was used. For the front camera, OnePlus 5t has double the camera resolution that the Mate 10 has. We'll let you be the judge of the sample photos that we took here. (OnePlus 5t and Huawei Mate 10)
BATTERY
Even though the Mate 10 has a higher battery capacity than the OnePlus 5T, the PC Mark battery test showed that the latter has a longer battery life than the former. The battery life attributes to factors like display, the chipset's power efficiency, and OS optimization For users who are into longer battery life, the OnePlus 5T is the right device for them.
PRICE
The OnePlus 5T is priced at Php26,990 (64GB) or Php30,990 (128GB) , while the Huawei Mate 10 is priced at Php32,990.
Overall, if users' preferences are inclined towards a device with better gaming potential (thanks to a higher RAM capacity and better performing GPU), longer battery life, and a more affordable price then they can go with the OnePlus 5T. On the other hand, if they want to have a smartphone with better viewing experience, expandable storage, Android 8.0 Oreo, and faster mobile data capacity, then the Mate 10 is the right choice.
What do you guys think? Let us know your thoughts in the comments section below.