Since Windows 11 was released last October 5, 2021, many internal features have been improved. One of my favorites is no other than the "Screenshot."
How to screenshot in Windows 11
Yes, it may sound basic, but part of my daily routine is to send screenshots to my team members here in YugaTech. It's one of our essential tools for our day-to-day tasks.
I've been a mac user for the last couple of years, and the keyboard shortcut for the screenshot is just a breeze for MacOS users.
In this quick guide, I'll share some of the ways to take screenshots on Windows 11.
Use Prt Scr (Print Screen) key with Clipboard
On a laptop, the print screen key is a bit tricky to find. It depends on the laptop you are using and the keyboard layout of a specific laptop model. But most of the time, you see them but with the text "PrtSc."
Pressing the Print Screen or PrtSc key will just copy the entire screen to the clipboard; then, you can open your favorite notes app like OneNote and paste or by hitting CTRL + V.
Alternatively, pressing the ALT key on a selected active window will copy that specific window.
And if you are lucky enough, like on our ASUS ProArt StudioBook , it comes with a dedicated screenshot key.
Use CTRL + WinKey + S in Windows 11
This is one of my favorite methods since the release of Windows 11. Pressing the CTRL + Windows Key + S will show the new snipping tool.
Before, you need to open the snipping app and choose which mode of screenshot you want to do. Now in Windows 11, it will just be a small widget on the top center of the screen, which is handy for immediate screenshot needs.
Windows Game Bar to Screenshot
Another built-in feature of Windows is the Game Bar. By pressing WinKey + G, the Game bar widgets open up, and you will see the capture window; from here, you will see the camera icon that indicates the screenshot button. Simply tap that icon, which will save your screenshot to its default directory.
Using Third Party Utility App – Share X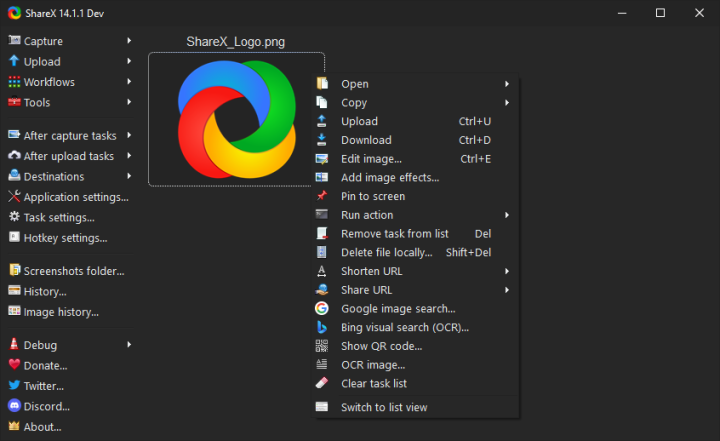 During the old days, I used to use the Share X screenshot utility app. it's one of the best freeware screenshot apps out there. There are many features, from creating GIFs to screen recording, history, and more. What I love about it aside from being free is having all these features for a very small app.
I usually install it via Ninite for a faster and more secure app installation.
Other third-party apps you want to try:
So, do you have another way of taking screenshots on your laptop? Let us know in the comment section, and we will love to add it to our arsenal.