Jan Raye Arsenio asks, "Which is better: Huawei Nova 2i or Xiaomi Mi A1?"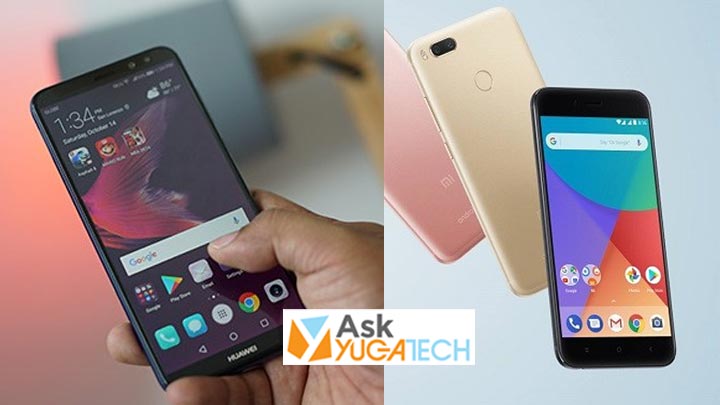 For this match, the rising star of today's mid-range smartphones will be facing the community's favorite brand. Let's see which smartphone wins!
The Huawei Nova 2i was released just recently and continues to gather fame all over the country. It has a 5.9″ IPS LCD display with an 18:9 aspect ratio @ 2160 x 1080 resolution, a Kirin 659 chipset, 64GB internal storage, 4GB RAM, 16MP +2MP rear cameras with LED flash, 13MP + 2MP front cameras, and a 3,340mAh battery.
The Xiaomi Mi A1 was made official last September. It has a 5.5″ Full HD display @ 1920 x 1080 resolution, Snapdragon 625 chipset, 64GB internal storage, 4GB RAM, 12MP wide-angle + 12MP telephoto rear cameras with LED flash, 5MP front camera, and a 3,080mAh battery.
Here are their detailed specs.
Huawei Nova 2i
Xiaomi Mi A1
Display
5.9-inch 18:9 IPS LCD display @ 2160 x 1080 pixels
5.5-inch Full HD display @ 1920 x 1080 pixels
CPU
HiSilicon Kirin 659 2.36GHz octa-core
Qualcomm Snapdragon 625 octa-core
GPU
Mali-T830
Adreno 506
Memory
– 64GB internal storage
– 4GB RAM
– 64GB internal storage
– 4GB RAM
Camera
– 16MP+2MP rear cameras, f/2.2 with LED Flash
– 13MP+2MP front cameras
– 12MP wide-angle + 12MP telephoto (2x zoom) rear cameras, LED flash
– 5MP front camera
Battery
3,340mAh Li-Ion battery
3,080mAh battery
OS
Android 7 Nougat with Huawei EMUI 5.1
Pure Android 7.1.2 Nougat (Android 8.0 Oreo within 2017)
Here are the advantages of each smartphone:
Huawei Nova 2i
+ Larger screen size
+ Higher screen resolution and aspect ratio
+ Slightly better performing CPU
+ Higher main rear camera resolution
+ Dual front cameras
+ Slightly larger battery
Xiaomi Mi A1
+ Gorilla Glass protection
+ Better performing GPU
+ Telephoto lens
+ Pure Android
+ USB Type-C
For the display, the Nova 2i has the upper hand with its larger screen size, aspect ratio, and resolution which results in a better viewing experience for users who are fond of watching videos. The Mi A1 has the standard display setup which is not bad, however, what this device's advantage over the former is that it has Gorilla Glass protection. Having the said screen protection will put many users at ease since it will not break easily when accidents happen.
In terms of CPU and GPU, both of them actually have their own advantages. The Kirin 659 of the Nova 2i gives a slightly faster-performing speed compared to the Snapdragon 625 of the Mi A1. We've benchmarked the performance of the Nova 2i but not same cannot be said for the Mi A1. However, its sibling, the Xiaomi Redmi Note 4X which we've already reviewed, has the same chipset. Antutu gave the Nova 2i a score of 62,964 while the Redmi Note 4X received a score of 61,824. It is a pretty close fight which makes their CPU performance almost the same. For the GPU, in my personal perspective, the Nova 2i should've had a better one since it is only on par with the Adreno 505. The Adreno 506 of the Mi A1 has the upper hand here since it is said that it performs 25% better than its predecessor.
As for camera performance, both smartphones have a dual rear camera setup. the Nova 2i has the bokeh effect with its 2MP lens and for the Mi A1, it has a wide-angle lens with a 2x zoom lens. Looking at their front cameras, the former also has a dual camera setup which has the same bokeh effect for selfies while the latter only has a single camera setup. We will immediately test the photo quality of the Mi A1 once we get our hands on it but for now, you can look at some sample photos of the Nova 2i here.
In terms of battery capacity, the Nova 2i has a slightly bigger one compared to the Mi A1. However, we are not sure which smartphone has a longer battery life since we have not tested out Xiaomi's offering. For now, we can only assume that Huawei's device draws more power due to its screen specs.
We have to mention the other features that are not in the Nova 2i. The Mi A1 has Gorilla Glass protection and USB Type-C which the other device lacks. The smartphone also runs on Pure Android which means that it is not modded heavily and users can enjoy a vanilla experience.
For their overall performance, both smartphones are good for daily tasks but if you want to have a faster performing smartphone and better viewing experience, you may choose the Huawei Nova 2i, but, if you want to have a device with better gaming capabilities, go with the Xiaomi Mi A1.
The Huawei Nova 2i is priced at Php14,990 while the Xiaomi Mi A1 is priced at Rs. 14,999 (~Php12K).
Which smartphone would be the best for you? Let us know your thoughts in the comments section below.