Troy Reyes asks, "Which is better: Huawei Nova 2i or Vivo V7+?"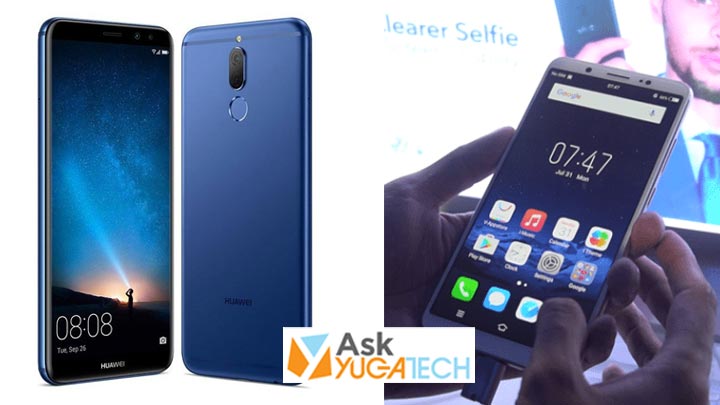 In this comparison, we have two newly released smartphones with a screen aspect ratio of 18:9, battling it out to see which one is better, in different aspects. Let's start!
The Huawei Nova 2i (or Huawei Maimang 6) is one of Huawei's newest mid-range smartphones, that has a different take on its aspect ratio. It has a 5.9" IPS display with an 18:9 aspect ratio and 2160 x 1080 resolution, a Kirin 659 chipset, 64GB internal storage, 4GB RAM, 16MP + 2MP dual rear cameras with LED flash, 13MP + 2MP dual front cameras, and a 3,340mAh battery.
The Vivo V7+ was launched just recently and boasts an 84.4% screen-to-body ratio. It has a 5.99" FullView display with 1440 x 720 resolution, a Snapdragon 450 chipset, 64GB internal storage, 4GB RAM, 16MP rear camera with LED flash, a 24MP front camera with Moonlight Glow, and a 3225mAh battery.
Let us look at their detailed specs:
Huawei Nova 2i
Vivo V7+
Display
5.9-inch 18:9 IPS display @ 2160 x 1080 pixels
5.99-inch FullView display @ 1440 x 720 pixels
CPU
2.36GHz Huawei Kirin 659 octa-core
Qualcomm Snapdragon 450 octa-core
GPU
Mali T830
Adreno 506
Memory
– 64GB internal storage
– 4GB RAM
– 64GB internal storage
– 4GB RAM
Camera
– 16MP+2MP rear cameras with LED Flash
– 13MP+2MP front cameras
– 16MP rear camera w/ LED flash
– 24MP front camera w/ Moonlight Glow
Battery
3,340mAh Li-Ion battery
3,225mAh battery
OS
EMUI 5.1 (Android 7.1.2 Nougat)
Funtouch OS 3.2 (Android 7.1 Nougat)
Here is a list of advantages each device has over the other.
Huawei Nova 2i
+ Higher screen resolution
+ Better performing CPU
+ Dual rear and front cameras
+ Slightly larger battery capacity
Vivo V7+
+ Slightly higher screen size
+ Better performing GPU
+ Higher front camera resolution
+ Face ID sensor
We don't have reviews for these smartphones yet, therefore we'll be comparing their specs on paper for now.
In terms of display, the Nova 2i has a higher screen resolution compared to the V7+. However, the screen size of the latter is bigger. Regardless, both smartphones will provide a good watching experience for users, since they both have a slim-bezel design, which gives way to the 18:9 aspect ratio.
In terms of CPU and GPU, there are a few things that need noting. The Snapdragon 450 of the Vivo V7+ is a new model from Qualcomm, and could be dubbed as a "mini Snapdragon 625" since it almost has the same architecture, but with a lower clock speed (see full details here). Moving on, in terms of CPU, the Kirin 659 of the Huawei Nova 2i is still the better performing chipset since it is basically an upgrade as well from the Kirin 655 chipset. Clock speed also adds to the advantage, as it's faster than that of the SD 450. For the GPU, the Adreno 506 GPU of the V7+ wins, since it has already been said in our previous comparisons that the Mali T830 GPU is almost at par with the Adreno 505, which, the Adreno 506 boasts a 25% performance increase over it. To put it simply, if you want an overall faster-performing smartphone, go with the Nova 2i. If you want a better gaming potential smartphone on the other hand, then go with the V7+.
For camera quality, we can only base this comparison on paper. It's worth noting that the Nova 2i has dual front and rear cameras. As for the V7+, it still keeps its main focus for its selfie quality, which is why it has a 24MP front camera. One notable feature for the V7+ is its Face ID feature which lets users unlock the smartphone or do other things by letting the device scan your face, a neat feature for a mid-range smartphone. You can check out our first impressions for the V7+ here.
As for battery capacity, the Nova 2i slightly has the upper hand with its 3,340mAh battery, as compared to the V7+'s 3,225mAh. We cannot say for sure which smartphone has a longer battery life, but the Snapdragon 450 will definitely help, it being the more power efficient chip.
Both smartphones, have their own poisons, so you can just pick which one would you prefer.
The Huawei Nova 2i is priced at CNY2,399 (~Php18,500) and will be available in the country soon. The Vivo V7+, on the other hand, is priced at Php 17,990, and is already available.
Which 18:9 smartphone would you pick? Let us know your thoughts in the comments section below.