Frs Corps asks, "Which is better: Huawei Nova 2i or ASUS Zenfone 5 2018?"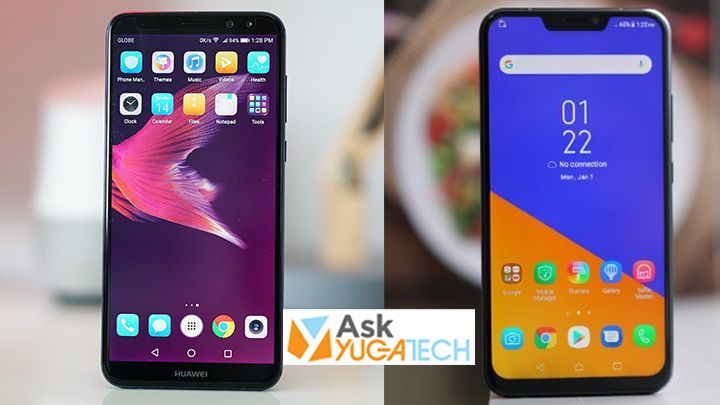 In this specs battle, we will be putting the Huawei Nova 2i side-by-side with the ASUS Zenfone 5 2018 to see which one has an upper-hand in each key aspect. Let's start!
The Huawei Nova 2i is the company's mid-range smartphone that has been steadily gaining popularity since its release. It has a 5.9″ 18:9 IPS LCD display with 2160 x 1080 resolution, Kirin 659 processor, 64GB internal storage, 4GB RAM, 16MP + 2MP rear cameras, 13MP + 2MP front cameras, and a 3,340mAh battery.
The ASUS Zenfone 5 (2018) is the company's reboot of the Zenfone series that took the smartphone industry by storm a few years back. It has a 6.2″ 19:9 FHD+ IPS display with 2246 x 1080 resolution, Snapdragon 636 processor, 64GB internal storage, 4GB/6GB RAM, 12MP + 8MP rear cameras, 8MP front camera, and a 3,300mAh battery with Smart Charging S and BoostMaster.
Here are their detailed specs:
Huawei Nova 2i
ASUS Zenfone 5 (2018)
Display
5.9-inch 18:9 IPS LCD display @ 2160 x 1080px
6.2-inch 19:9 FHD+ IPS display @ 2246 x 1080px
CPU
2.36GHz HiSilicon Kirin 659 octa-core
1.8GHz Qualcomm Snapdragon 636 Octa-core
GPU
Mali-T830 MP2
Adreno 509
Memory
– 64GB internal storage
– 4GB RAM
– 64GB internal storage
– 4GB/6GB RAM
Camera
– 16MP+2MP rear cameras, f/2.2 with LED Flash
– 13MP+2MP front cameras, f/2.0
– 12MP f/1.8 Night HDR, OIS/EIS, PDAF main + 8MP 120-degrees wide-angle secondary
– 8MP f/2.0 front camera
Battery
3,340mAh Li-Ion battery
3,300mAh battery with BoostMaster & Smart Charging S
OS
Android 7 Nougat with Huawei EMUI 5.1
Android 8.0 Oreo with Zen UI 5.0
Here are the advantages of each smartphone:
Huawei Nova 2i
+ Higher main rear camera resolution
+ Higher front camera resolution
+ Slightly larger battery life
ASUS Zenfone 5 (2018)
+ Larger screen size
+ Higher vertical screen resolution
+ Better Performing CPU
+ Better Performing GPU
+ Higher secondary rear camera resolution
+ Android Oreo out-of-the-box
+ Fast Charging
+ USB Type-C
+ 4K video recording support
DISPLAY
There isn't much difference between the two devices except for the small lead of Zenfone 5's screen aspect ratio and screen size over the Nova 2i. In terms of viewing experience, users can choose the former for better video playback. Do note though that the Zenfone 5 has a notch, so users who are not fond of this design may want to go for the Nova 2i instead.
CPU AND GPU
In terms of CPU architecture, the new Snapdragon 636 of the Zenfone 5 has a more efficient and optimized architecture than the Nova 2i's Kirin 659. While the latter has a higher clock speed, it does not mean that it outperforms the former, overall. If we were to rate the processors, it would be something like this: Snapdragon 636 > Snapdragon 625 > Kirin 659.
The Zenfone 5's Adreno 509 GPU has more gaming potential than the Nova 2i's Mali-T830 MP2, making the former a better pick if users want to play games with moderate to heavy graphics ones.
CAMERA
The rear and front camera resolutions of the Nova 2i are higher than the Zenfone 5. However, camera resolution is not the deciding factor of how good the image quality will be. Check out the sample shots that we got from each other here: Huawei Nova 2i and ASUS Zenfone 5 (2018).
BATTERY
Both devices carry a battery capacity of more than 3,000mAh. The battery life of both devices will depend on major factors like display and CPU architecture. For the architecture, The Kirin 659 has 16nm while the Snapdragon 636 has a 14nm one making the Zenfone 5 a more battery efficient device.
PRICE
The Huawei Nova 2i is priced at Php13,990 while the ASUS Zenfone 5 (2018) isn't officially priced yet.
Overall, the Zenfone 5 wins in the majority of the key specs making it a worthy pick for users who would like to have a better viewing experience, CPU performance, and GPU performance. Which device would you pick? Let us know your choice in the comments section below.