Luis asks, "Which do you prefer: Huawei Nova 2i or Sony XA1 Plus?"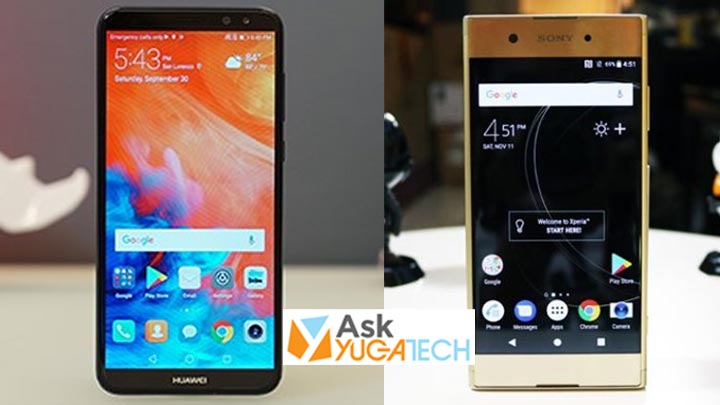 In this match, two mid-range smartphones will be battling it out to see which one is better in terms of different key aspects. Let's begin!
The Huawei Nova 2i has been around for a few months now and still is garnering fame from many consumers. It has a 5.9″ IPS LCD display with an 18:9 aspect ratio and 2160 x 1080 resolution, a Kirin 659 processor, 4GB of RAM, 64GB of internal storage, 16MP + 2MP dual rear cameras with LED flash, 13MP + 2MP dual front cameras, and a 3,340mAh battery.
The Sony Xperia XA1 Plus is the company's newest mid-range smartphone which is an upgrade over its younger brother, Xperia XA1. It has a 5.5″ Full HD IPS display with 1920 x 1080 resolution, a MediaTek Helio P20 processor, 4GB of RAM, 32GB UFS internal storage, a 23MP rear camera with HDR and LED flash, 8MP front camera with SteadyShot, and 3,430mAh battery with Quick Charging.
Here are their detailed specs:
Huawei Nova 2i
Sony Xperia XA1 Plus
Display
5.9-inch 18:9 IPS LCD display @ 2160 x 1080 pixels
5.5-inch Full HD IPS display @ 1920 x 1080 resolution
CPU
HiSilicon Kirin 659 2.36GHz octa-core
2.3GHz MediaTek Helio P20 Octa Core
GPU
Mali-T830
Mali-T880
Memory
– 64GB internal storage
– 4GB RAM
– 32GB UFS internal storage
– 4GB RAM
Camera
– 16MP+2MP rear cameras, f/2.2 with LED Flash
– 13MP+2MP front cameras, f/2.0
– 23MP f/2.0 rear camera: Hybrid Autofocus, F2.0 lens, HDR, SteadyShot w/ LED flash
– 8MP f/2.0 front camera: up to ISO 3200, HDI, SteadyShot
Battery
3,340mAh Li-Ion battery
3,430mAh battery with Quick Charging (Pump Express+ 2.0)
OS
Android 7 Nougat with Huawei EMUI 5.1
Android 7.0 Nougat
We have tested both smartphones with Antutu benchmark, and the Nova 2i got a score of 62,964 while the Xperia XA1 Plus got 63,348.
Here are the advantages of each smartphone.
Huawei Nova 2i
+ Larger screen size
+ Slightly higher vertical screen resolution
+ Larger internal storage
+ Quad-camera setup
+ Higher front camera resolution
Sony Xperia  XA1 Plus
+ Slightly better performing CPU
+ Better performing GPU
+ Higher rear camera resolution
+ Larger battery
+ Fast charging
+ ClearAudio+ tech
+ Dedicated microSD card slot
+ HDR mode in camera
DISPLAY
In terms of display, the smartphone with better specs on this aspect is the Nova 2i. It has a larger screen size and vertical screen resolution thanks to its 18:9 aspect ratio. With these, users will have a better viewing experience compared with the XA1 Plus. However, we should not count the latter out since it still has the standard display specs for a mid-range smartphone.
CPU AND GPU
For the CPU, there is a slight difference with the performance of the Helio P20 of XA1 Plus and the Kirin 659 of the Nova 2i, but during our Antutu benchmark testing, we found out that the former has the better performance. For the GPU, the Mali-T880 is the clear winner when compared with the Mali-T830 since the former's GPU is usually equipped with high-end processors while the latter is usually paired with low-mid range processors.
CAMERA
For the camera department, we can say that both of the smartphones' cameras produce decent and good photos. The quad-camera setup of the Nova 2i gives the photos depth and the ability to produce a bokeh effect as well. As for the XA1 Plus, its 23-Megapixel rear sensor, as well as its HDR mode with SteadyShot makes it a good choice for taking photos. We have sample shots from both smartphones, which you can find here. (Huawei Nova 2i and Sony Xperia XA1 Plus).
BATTERY
In terms of battery capacity, the XA1 Plus has a slightly larger battery compared with the Nova 2i. We have tested the latter's battery life performance and the smartphone lasted for 8 Hours and 46 Minutes. We will be releasing our review for the Xperia XA1 Plus soon, and with it, comes our battery life test, so be sure to watch out for it.
OVERALL PERFORMANCE
In terms of overall performance, we can say that the XA1 Plus has the upper hand in this since it has a better performing CPU and GPU. As for their displays, the Nova 2i wins here.
OTHER FEATURES
The XA1 Plus has ClearAudio+ technology, a dedicated microSD card slot, Fast Charging tech, and HDR mode in its camera, while the Nova 2i doesn't have these features.
PRICE
The Huawei Nova 2i is priced at Php14,990 while the Sony Xperia XA1 Plus is priced at Php16,990.
Which smartphone will you pick? Let us know your choice in the comments section below.