Jana Dela Peña asks, "Which is better: Huawei Nova 2i or Samsung Galaxy A5 2017?"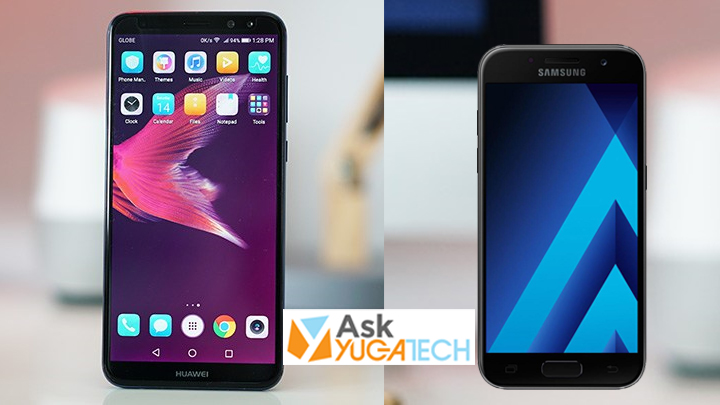 Two mid-rangers from two famous smartphone companies will be put side-by-side in order to see which one is better specs-wise. Let's start!
The Huawei Nova 2i is one of the most talked about devices ever since its announcement. It has a 5.9″ 18:9 aspect ratio IPS LCD display with 2160 x 1080 resolution, a Kirin 659 processor, a 64GB internal storage, a 4GB RAM, a 16MP + 2MP rear cameras with LED flash, a 13MP + 2MP front cameras, and a 3,340mAh battery.
The Samsung Galaxy A5 2017 has been around since early 2017. It has a 5.2″ Super AMOLED display with 1920 x 1080 resolution, an Exynos 7880 processor, a 32GB internal storage, a 3GB RAM, a 16MP AutoFocus rear camera with LED flash, a 16MP front camera, and a 3,000mAh battery with fast charging tech.
Here are their detailed specs:
Huawei Nova 2i
Samsung Galaxy A5 2017
Display
5.9-inch 18:9 IPS LCD display @ 2160 x 1080 pixels
5.2-inch Super AMOLED display @ 1920 x 1080 pixels
CPU
HiSilicon Kirin 659 2.36GHz octa-core
Exynos 7880 1.9GHz octa-core
GPU
Mali-T830
Mali-T830
Memory
– 64GB internal storage
– 4GB RAM
– 32GB internal storage
– 3GB RAM
Camera
– 16MP+2MP rear cameras, f/2.2 with LED Flash
– 13MP+2MP front cameras, f/2.0
– 16MP f/1.9 autofocus rear camera w/ LED flash
– 16MP f/1.9 front-facing camera
Battery
3,340mAh Li-Ion battery
3000mAh battery w/ fast charging
OS
Android 7 Nougat with Huawei EMUI 5.1
Android 6.0 Marshmallow
Here are the advantages of each smartphone from each other:
Huawei Nova 2i
+ Larger screen size
+ 18:9 screen aspect ratio
+ Higher vertical screen resolution
+ Slightly better performing CPU
+ Larger internal storage
+ Larger RAM
+ Larger battery capacity
+ Android 7 Nougat out-of-the-box
Samsung Galaxy A5 2017
+ Wider rear and front camera aperture
+ Higher front camera resolution
+ NFC
+ ANT+
+ USB Type-C
+ IP68 Dust and Water resistance
+ Fast charging technology
DISPLAY
The current trend of mid-range smartphones nowadays is the 6-inch screen size with 18:9 screen aspect ratio setup. The Nova 2i carries the same display specs, making the device win in terms of being updated with the current trend. Aside from that, it has a higher vertical resolution of 2160 x 1080 pixels. We should not count the A5 2017 with a 5.2-inch screen size with a 1920 x 1080 resolution out just yet since not all consumers want to have a big-screen smartphone on their hands.
They have different display types but it is up to the users on which device they would prefer. As for viewing experience, it is definitely a win for the Nova 2i here.
CPU AND GPU
The Nova 2i is equipped with a Kirin 659 processor with Mali-T830 GPU while the A5 2017 has an Exynos 7880 processor with the same GPU. For performance, we found out that the former's processor has a slightly faster performance for single-core tasks while the latter is slightly better in terms of multi-core tasking. For gaming capabilities, it is clear that both smartphones have the same potential since they have the same GPU.
Author's Note: We have not yet reviewed the A5 2017 so we based the performance of its processor to another smartphone with the same Exynos 7880 one.
CAMERA
On paper, both smartphones give high resolutions for their camera lenses, however, the A5 2017 has a larger front camera as compared to the Nova 2i and it has wider rear and front camera lenses. The latter has a quad-camera setup but this does not mean that it automatically has the better camera performance than single-camera setups. We have taken sample shots from the Nova 2i that you can see in our review.
BATTERY
The Nova 2i carries a 3,340mAh battery without fast charging while the A5 2017 has a flat 3,000mAh battery with fast charging technology. We cannot say which one will last longer since we do not have the latter's unit to test out its battery performance. However, the Nova 2i lasted for 8 hours and 46 minutes when tested in PC Mark's battery test.
OTHER FEATURES
The A5 2017 has NFC, ANT+, USB Type-C, IP68 water and dust resistance, and fast charging technology, in which the Nova 2i doesn't have all of the said features. The device may have Android 6 Marshmallow out-of-the-box, but it i has been announced this year that the A5 2017 got the Android 7 Nougat update.
PRICE
The Huawei Nova 2i is priced at Php14,990 while the Samsung Galaxy A5 2017 is priced at Php17,390 (see price listing here).
If you are going with performance and viewing experience, the Nova 2i gets the upper hand, however, if you have more budget and want to go for a smartphone with more features, you can go with the A5 2017.
What do you guys think? Let us know your thoughts in the comments section below.