The entire Metro Manila will be placed under Community Quarantine or limited lockdown as announced by Pres. Rodrigo Duterte. This is due to the alarming rate of infections from the COVID-19 or coronavirus that has been declared as a pandemic by the WHO.
However, the memorandum or Executive Order (EO) along with the implementing rules and guidelines have not yet been published or revealed in full by concerned departments and agencies such as the MMDA, DOH, DoTC, PNP, DILG, DTI, DoT. There were several announcements and conferences made that could answer a lot of the questions regarding the lockdown in Metro Manila.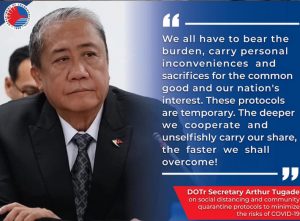 This page aims to compile and organize all of the announcements to give better picture and clarify of the entire situation.
Coverage.
Entire Metro Manila is covered by the quarantine or lockdown starting Sunday, March 15 at 12:00am until April 14, 2020 at 11:59pm. Government agencies will be monitoring the situation day by day and adjust the advisories based on the developments.
Transportation.
 Deliveries in and out of MM will be allowed, especially for food, basic supplies and commodities. To avoid contact, truck drivers and their helpers will be restricted inside the vehicles.
Employees outside of MM are allowed to go to office and work. They just need to show company ID or other proof like COE, etc. along check points. Applies with people traveling thru Metro Manila borders that have official business to attend to. If you cannot show any proof, you will be denied entry.
Mass public transportation in and out of MM will still be allowed but with limitations/restrictions. The MRT, LRT and PNR will continue to operate but with restrictions/guidelines from DOTR for social distancing. MRT has announce that volume of passengers per trip will be reduced to just 25% capacity per wagon and restrictions be placed for communters who line up to ride the trains. MMDA also announced that public buses will not be allowed to carry passengers beyond the seating capacity (i.e. no stading passengers).
For UV Express, limited to 6 passengers including driver while for  Public Utility Buses, it's 25 passengers including driver and conductor. For taxis and TNVS, maximum of 4 passengers including the driver with one seat apart. For jeepneys, not more than one-half (50%) of regular capacity.
For Grab, Angkas, Joyride, MoveIt. Ride-sharing (GrabShare) is suspended while pilot implementation of Motorcycle Taxis are also suspended.
Number coding for private and public vehicles is lifted until further notice.
All domestic air transports or commercial flights will be restricted by March 15. Incoming flights may need to be redirected to Clark Airport in Pampanga or Sangley Airport in Cavite.
From PAL spokesperson, Cielo Villaluna: Rebooking or rerouting of flights is free and best to wait April 14 before rebooking. You can also opt for a full refund without penalties. According to Cebu Pacific Corp. Comm. Director, Charo Logarta Lagamon: Credits will be saved into your Travel Fund with Cebu Pacific which can be used for the next 12 months for both domestic and international flights.
For international flights going to Manila via NAIA terminals, passengers need to remain in Metro Manila for the entire duration of the quarantine. 

Those going to the province will need to go thru other airports like Clark, Sangley, Cebu, Davao, etc.that are outside of MM if their final destination is the provinces.
Curfew.
The MMDA has recommned to all 17 mayors of Metro Manila to implement a curfew from 8pm to 5am in their respective jurisdictions. This is merely recommendatory and each city councils will have to pass an ordinance for this to be in effect.
It was also recommended that malls of similar high-traffic places be placed on temporary shutdown for the period of the quarantine, except those establishments that offer food, groceries, medicines and restairants that provide food deliveries.
In response, some major malls in Metro Manila have published advisories of shortened mall hours. SM Malls, Ayala Malls and Robinsons Malls have jooined and agreed to an early closure of 7pm daily.
Public Gatherings
Social gatherings or mass public gatherings are prohibited during the period of quarantine. This includes masses, concerts, parties, rallies, fiestas, and related events.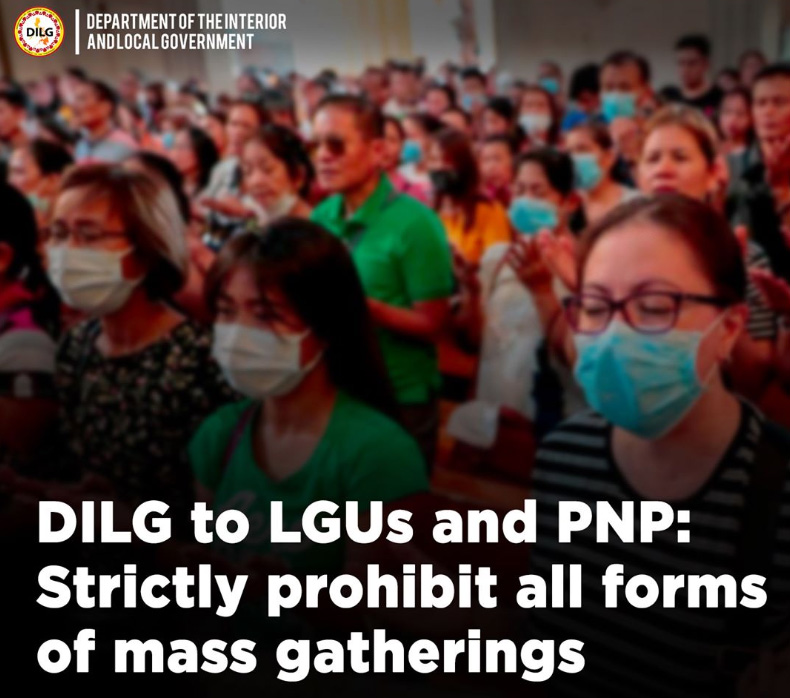 In response, the Catholic Church has also published an announcement that there will be no masses during the period and will adopt alternatives for church-goers.