Jen David asks, "Which is better: Nokia 8 or Huawei P10?"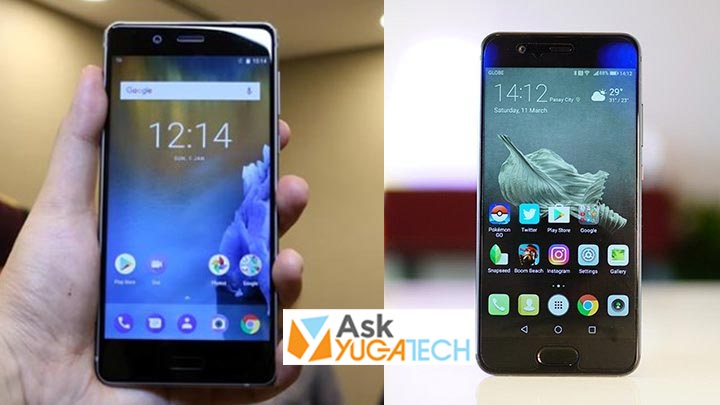 In this match, we will look at both flagship smartphones from two brands which have a good reputation for their quality. Let's go!
The Nokia 8 is HMD Global's newest flagship smartphone which packs a good punch. It has a 5.3″ Quad HD IPS display with a 2560 x 1440 resolution, a flagship chipset  from Qualcomm (Snapdragon 835), a 64GB internal storage, a 4GB RAM, a 13MP (Color + Optical Image Stabilization) + 13MP (Monochrome) dual rear cameras with Phase Detection Auto Focus (PDAF) and dual-tone flash, a 13MP PDAF front camera with display flash, and a 3,090 battery with QuickCharge technology.
The Huawei P10 is the company's flagship smartphone along with its big brother, the P10 Plus. It has a 5.1″ full HD display with 1920 x 1080 resolution, a Kirin 960 chipset, a 32GB/64GB internal storage, a 4GB RAM, a 20MP monochrome + 12MP color dual rear cameras with OIS and dual-LED flash, an 8MP front camera, and a 3,200mAh battery with SuperCharge technology.
Now, let's take a look at their detailed specs:
Nokia 8
Huawei P10
Display
5.3-inch QHD IPS display @ 2560 x 1440 pixels
5.1-inch full HD display @ 1920×1080 pixels
CPU
2.5GHz Octa-Core Qualcomm Snapdragon 835
HiSilicon Kirin 960 2.4GHz octa-core
GPU
Adreno 540 GPU
Mali-G71 MP8
Memory
– 64GB internal storage
– 4GB RAM
– 32GB/64GB internal storage
– 4GB RAM
Camera
– 13 MP (Color + OIS) + 13 MP (Mono) rear cameras: 76.9-degree, PDAF, IR range finder, dual tone flash
– 13 MP PDAF front cameraL, 78.4-degree, display flash
– 20MP monochrome + 12MP color dual rear cameras with dual-LED Flash, OIS
– 8MP front camera
Battery
3090mAh non-removable battery with QuickCharge
3,200mAh Li-Ion battery with Super Charge
OS
Android 7.1.1 Nougat
Android 7 Nougat with EMUI 5.1
Here are the advantages of each smartphone.
Nokia 8
+ Larger screen size
+ Higher screen resolution
+ Better performing CPU
+ Better performing GPU
+ Slightly higher Color lens resolution
+ Higher front camera resolution
Huawei P10
+ Higher monochrome lens resolution
+ Larger battery capacity
In terms of display, Nokia 8 has the upper hand with its 5.3″ screen size and 2560 x 1440 resolution compared with the P10's 5.1″ screen size and 1920 x 1080 resolution. A smartphone with a higher resolution and screen size means that it will draw more power from it but at the same time, it will provide users a better viewing experience.
For the CPU and GPU department, the flagship chipset from Qualcomm gives more juice and performance power compared with the Kirin one. The Snapdragon 835 is the company's most powerful chipset so far which means that the Nokia 8 will have a faster processing speed than that of the P10 Kirin 960 chip. We would like to compare the Huawei Mate 10 which carries the Kirin 970 chipset, however, their price difference is bigger than that of the P10. Don't get us wrong, both chipsets from the smartphones are the top-tiers which mean they perform daily task easily. As for the GPU, the Adreno 540 GPU puts up more gaming potential than the Mali G71 MP8. If we get our hands on the Nokia 8, we will further show the readers what we mean by checking its benchmark scores.
As for cameras, both have good camera qualities and features. The Nokia 8 has a "Bothfie" camera feature wheren users can use the rear and front camera at the same time. See sample photos here. Its camera lenses are powered by the Carl Zeiss technology, a popular manufacturer of producing lenses for photographers. The P10's camera is equipped with Leica lenses which already proved its quality back when its predecessor, the P9, was released. See sample photos here.
For the battery capacity, the P10 has a larger one with a 3,200mAh equipped with SuperCharge technology. We have not tested the battery life performance of the Nokia 8 since we do not have a unit yet but as for the former's battery life performance, it lasted for 14 hours and 30 minutes. We may get the same result for the latter but we cannot be sure just yet.
For overall performance, looking at their raw specs, it is shown that the Nokia 8 wins in this aspect but we should not underestimate the P10's performance as well.
The Nokia 8 is priced at Php29,990 while the Huawei P10 is priced at Php28,990 (see price listing here).
Let us know your thoughts in the comments section below!