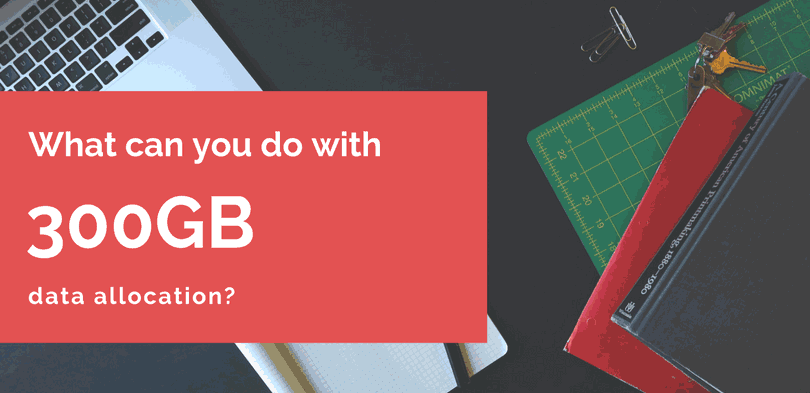 Depending on your usage behavior, a 300GB data allocation a month can be enough or not, but that heavily depends on a number of factors. Let's look at some sample scenarios where bandwidth is heavily used.
Netflix
A lot of people these days are watching Netflix at home or on their mobile phones. On a laptop or smart TV, a typical SD-quality movie will use up about 1GB per hour of streaming, and it goes up to 3GB per hour for HD-quality titles.
That gives you 300 hours of watch time on SD and 100 hours on HD. With typical movies lasting about 1.5 to 2 hours each, you can watch somewhere between 50 to 67 movie titles per month or an average of 2 HD movies per night.
If you want to binge-watch the entire season of House of Cards, each episode is about 250MB in size. That means the entire five seasons (65 episodes) will cost you 16.25GB of data.
YouTube
YouTube is basically the same as Netflix.
You can manually set your preferred settings on YouTube. A High requires approximately 3GB (HD) per hour, but if you set it to Ultra HD, that's 7GB per hour.
However, you can also set your video quality to either Low (300MB/hour) or Medium (700MB/hour) if you really want to maximize your usage. This makes more sense if you're just watching from your smartphone because of the small screen.
Facebook
Browsing Facebook consumes an average of about 2MB per minute. That's 120MB per hour. If an average user spends about 6 hours on Facebook each day, that will total about 18GB for the entire month.
Web Browsing
Average web browsing is about 60MB per hour, so if you spend 8 hours a day surfing the web, that's about 480MB per day or 14.4GB a month.
Spotify
Spotify can eat up to 150MB of data per hour.
On average, a single household user would spend somewhere between 50GB to 150GB of data consumption per month with about 8 to 10 hours of internet access at home (students and office workers spend an average of 8 hours in school/work, 8 hours internet at home and 8 hours sleep). This increases as the number of users at home increases, so that's something to consider.
Subscription plans such as Go Big Plan 1299 are essentially this type of service for casual to moderate users. The Php1,299 monthly subscription offers 5Mbps of speed and 300GB of data allocation with an additional 100GB for YouTube streaming.